---
VERNON DEE GRIFFIN was born Nov 02, 1924 in Manila, Arkansas, and died May 27, 1974 in Memphis, TN. During WW II he joined the US Navy and served on the USS New Jersey Battleship (BB62). He enlisted Jan. 25, 1943 and was discharged Feb. 6, 1946 as a Gunner's Mate Second Class. Per the War Log and the commendation, he shot down one of the first Japanese planes on June 12, 1944.

His medals include: Philippine Liberation 2 Stars, Asiatic Pacific 1 Silver Star, 4 Bronze Stars, American Theatre, Good Conduct and Commendation.
---
From the War Log of the USS New Jersey.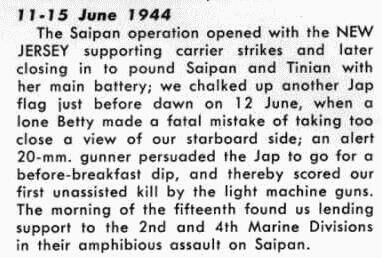 ---
The commendation he received from the US Navy.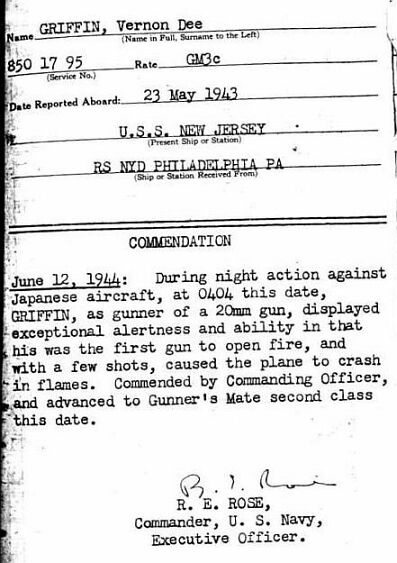 On June 12, 1944: "During night action against Japanese aircraft, at 0404 this date, GRIFFIN, as gunner of a 20mm gun, displayed exceptional alertness and ability in that his was the first gun to open fire, and with a few shots, caused the plane to crash in flames. Commended by commanding Officer, and advanced to Gunner's Mate second class this date."
---